Oscar Howe Painting Coming Home to South Dakota
The Aktá Lakota Museum will soon welcome back to South Dakota a piece by well-known Native American artist Oscar Howe. The museum's Acquisitions Committee recently purchased the work from the collection of Dr. Frederick Dockstader.
Dockstader (1919-1998), anthropologist, art professor, museum director and authority on American Indian Art, left an impressive collection of works from around the country, most notably the Kachina of the Southwest. He achieved notoriety for his publications on the topic and served as director for several museums specializing in American Indian art.
The untitled Howe piece, dated circa 1940, is gouache on paper. Howe stands out as the artist who bridged his experience in both Euro-American and Native American culture. He broke stereotypes imposed on Indian artists and brought Native Art forward into the contemporary conversation. "The museum's new piece preceded Howe's most innovative work," said Museum Director Dixie Thompson. "However, it is not hard to detect hints of the tidal change this artist would bring to traditional Indian art, opening the field to a greater range of style and expression."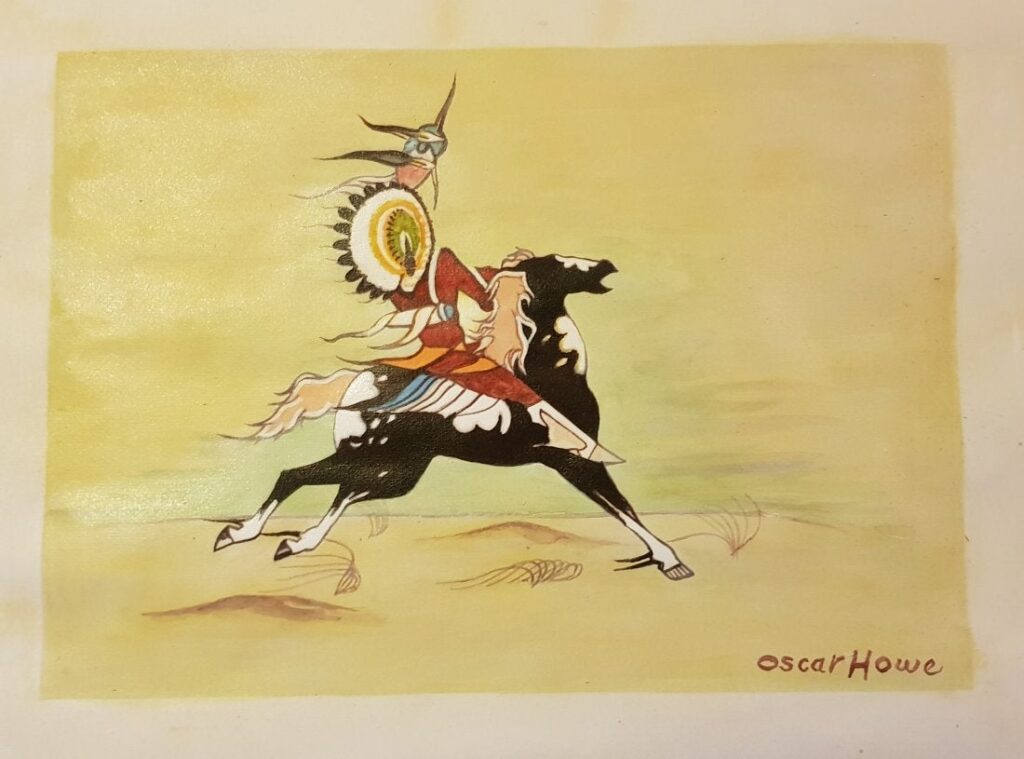 Howe holds a unique place at the heart of the St. Joseph's Indian School campus. The first piece arrived during the renovation of Our Lady of the Sioux Chapel in the 1980s. His "Indian Christ," rendered in tapestry by master weaver Grete Bodegaard Heikes, a colleague of Howe's from the University of South Dakota College of Fine Arts, became the backdrop for the chapel's sanctuary. She executed the weaving from a smaller original, which is in the collection at the museum.
The Aktá Lakota Museum will become home for the beautiful piece in the coming weeks.